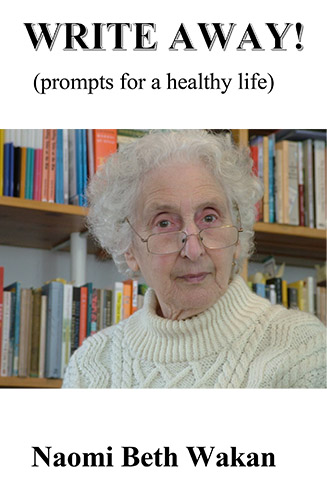 Pacific-Rim Publishers (PB)
ISBN: 978-0-921355-82-7
Cdn $25.00
Wholesale:
naomi@naomiwakan.com
Retail:
mail@pagesresort.com
Write Away! (prompts for a healthy life)
Naomi Beth Wakan, much respected writer and poet, now in her
ninetieth year, has created a wise and inspiring book for those who wish to follow a path of self-development, healing, and creativity.
Write Away! (prompts for a healthy life) is a fine read, a means for
eager writers to learn from a writer of some fifty books and to share some of the wisdom of one who defines herself as "an everyday poet".
Wakan's prompts are written with translucent clarity, playfulness and offer us a means of discovering and expressing our own insights, gleaned from attuning ourselves to the experiences of the everyday.
The prompts come from a profound source, connecting us with the archetypal patterns that we all share such as birth, death, and encounters with nature.
Marilyn Carson
Henighan haiku poet
Write Away! expresses the urgency of just getting on with it!
Naomi's intriguing writing exercise suggestions help us to do just
that. Peppered with personal anecdotes, poems, philosophy and wit, Write Away! encourages us to dig deep into our psyches and release those creative juices.
An exhilarating roller coaster ride with therapy and practical writing skill development combined!
As a reader and student of Naomi Beth Wakan, I am excited by this collection of writing prompts that provide inspiration to "Write Away!" She merges assignments for self-reflection with imagination so that the writer is called to explore their own history as they practice putting words together.
Wakan calls on her own life as a psychotherapist and her word magic as a poet and teacher to create a rich treasure of exercises. I look forward to letting them teach me be a better poet and a wiser human.