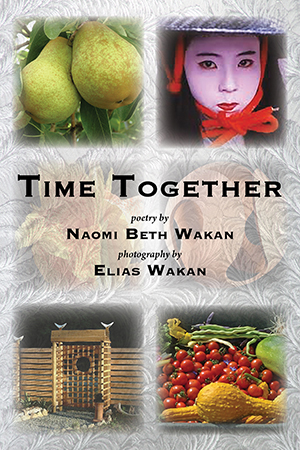 Shanti Arts
ISBN 978-1-956056-41-9
Cdn $29.95  US $23.95
Wholesale:  info@shantiarts.com
US Retail:  info@shantiarts.com
CDN Retail:  mail@pagesresort.com
poetry by Naomi Beth Wakan
photography by Elias Wakan
Time Together, a collection of poems and photographs by Naomi Beth Wakan and Elias Wakan, is dedicated with love to Gabriola, the island off Vancouver Island, British Columbia, where the couple have lived for over twenty-five years. The Wakans are solo artists – Elias, a photographer and sculptor, using wood as his medium; Naomi, a personal essayist, poet and dabbler in many other art forms. For this book, however, the Wakan's did a joint venture – Naomi supplying tanka to match Eli's photographs. Creating it was an opportunity for them both to look back on their time spent with each other, as well as their time spent on the island whose earth and people have gifted them with lives of joy and bounty. Time Together is a celebration of longevity, community, and love.
120 pages | 54 full-color, high resolution photographs
Available at Pages Marina and Resort Bookstore on Gabriola.
Time Together interweaves images and words in a lucid meditation on presence, patterns, and essence. Gabriola's communities of nature and of humans emerge as microcosms of timeless rhythms, where the fleeting and the eternal are made manifest in each other, in a hundred different ways. These are, in the happiest sense of the word, companion pieces, while they also form one work that lovingly marks the passing, and the persistence of our world.
Naomi and Eli Wakan have long represented to me the ideal creative couple: one is outgoing, determined and decisive, the other quiet, reflective and deeply thoughtful.  It is a pleasure to gaze on the images in this book, to observe the distinctly different characteristics of their work and the complementary forces that hold them seamlessly together.
Naomi Beth and Elias Wakan, beloved artists of Gabriola, "bring heaven closer to earth".  Her poetry and his photographs reflect their love and life together on this small island. Their meticulously crafted works, both enrich and are uplifting. This is a celebration of a glorious cultural fusion: a wife's poetry and her husband's photos. Here a critical eye blends with a generous heart.