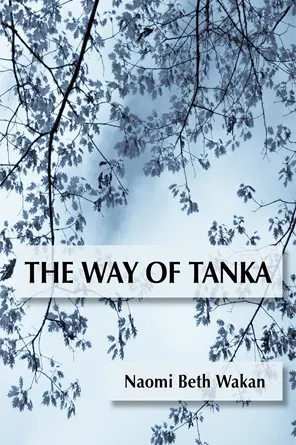 pub: Shanti Arts (PB)
ISBN: 978-1-941830-60-4 (print; softcover; perfect bound)
ISBN: 978-1-941830-61-1 (digital)
Cdn $20.00  US $15.95
Wholesale: info@shantiarts.com
US Retail: info@shantiarts.com
CDN Retail: mail@pagesresort.com
The Way of Tanka is an approachable yet comprehensive examination of the Japanese form of poetry known as tanka.
The author, Naomi Beth Wakan, discusses its roots in early Japanese courts where it was considered the poetry of lovers, as well as its adaptation to western culture and the characteristics that separate it from the more popular form of Japanese poetry: haiku.
Throughout, Wakan weaves her story of personal self-transformation as she moved from the more disciplined writing of haiku to the more metaphorical and philosophical writing of tanka.
Numerous examples of tanka are provided, and the rich explanation of the experience of writing tanka encourages readers to write their own tanka while remaining open to the possibilities it provides for personal growth.
This comprehensive introduction to tanka includes an in-depth look at contemporary tanka through the author's explication of tanka written by a number of poets . . .This is Naomi Beth Wakan at her best, as teacher, motivator, and therapist.
At last, a comprehensive guide in one book, sure to inspire both beginners and seasoned poets.
While the English-language market has offered tanka collections and academic-leaning books about Japanese poetry, this is the first comprehensive guide to writing tanka.
Wakan packs a lot into 144 pages, and it is delivered with characteristic Wakan 'tone': honest, up-front, often witty, and playful.
This is a book I recommend you read all the way through, as Wakan takes the reader on her journey in search of the essence of tanka.
Written in a lucid and readable style, Naomi Beth Wakan's The Way of Tanka is a highly practical guide that instructs readers on how to write tanka.
She not only provides a good sampling of published tanka that represents a broad spectrum of stylistic and thematic varieties, but also includes her detailed comments on some of the tanka that are thematically or structurally significant. I particularly like the section on "Pivot Lines and Last Lines."
Her book gives readers a renewed appreciation of this minimalisitc yet highly expressive genre—tanka, 'the perfect vehicle for capturing the swift, direct pulse of emotion.
Naomi Beth Wakan casts her fiendishly curious and observant mind to the world of tanka.
In her witty, conversational way, Naomi guides us through the many possibilities and permutations English-language poets have brought to the tanka tradition.
Gives readers a renewed appreciation of this minimalistic yet highly expressive genre—tanka, "the perfect vehicle for capturing the swift, direct pulse of emotion.
Wakan's new book, The Way of Tanka, is simply brilliant.
. . . a long-awaited addition to the world of tanka. Bringing her extensive experiences as a tanka poet together, Wakan invites you to learn about the art of writing tanka.
For beginners, it will serve as an indispensable introduction to tanka, and for experienced tanka poets, it will provide an excellent opportunity to reflect on their tanka writing.
You will also simply enjoy reading a fair number of tanka poems by several poets, including the author, dispersed throughout the book.
. . . Wakan's book not only helps budding and experienced poets to learn and review the basics of tanka and keep writing tanka of their own, but also, at the same time, it will be used as a basis for evaluating tanka written by others to keep current with movement in the contemporary tanka world in which they are placed.
This is an excellent book, and I am delighted that I have encountered it.
Naomi Beth Wakan, a very talented poet, and eager reader of poetry books and journals, is intelligent, and always curious, so it's no wonder her new book, The Way of Tanka, is simply brilliant
Overall an excellent book by Naomi Beth Wakan, marked by her humility, openness, and deep insight. This handbook is as useful to experienced practitioners as it is to a novice.  A must have!
What a wonderful and delightful work! My sincere congratulations to you on your significant accomplishment in producing a text that I believe will quickly become a standard in tanka education.
Having read it, I felt as if I had taken a personal seminar with a great teacher who cares deeply about the subject.
This book is a comprehensive introduction to tanka. I recommend it to experienced tanka poets who might consider buying it, reading it, and then perhaps passing it on to a poet new to the form.
The Way of Tanka has a crisp, authoritative, confident touch. It is an explanation of tanka at its best, expertly tuned to the personal, in which every chapter is the mot juste in the melody of the whole. It is a collection that richly satisfies eye, ear, and heart.
Naomi Beth Wakan brings us another ground-breaking book, The Way of Tanka.
The first book of its kind in Canada, it attempts to get to the heart of this developing form and includes not only the author's insightful commentary, but also quotes from some of the most eminent scholars, publishers and writers of the form today.
This comprehensive introduction to tanka includes an in-depth look at contemporary tanka through the author's explication of tanka written by a number of poets, along with many other fine examples and commentary. This is Naomi Beth Wakan at her best, as teacher, motivator and therapist. At last, a comprehensive guide in one book, sure to inspire both beginners and seasoned poets.
It Takes One To Tanka
Haiku is not the only Japanese poetic form to go global.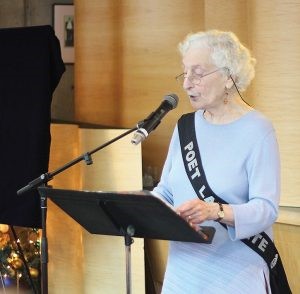 Naomi Beth Wakan as the inaugural Poet Laureate of Nanaimo (2013-2016).
Late literary bloomer Naomi Wakan now encourages others to opt for a similar style with a form consisting of five lines called the tanka
Born in England in 1931, Naomi Wakan came to Canada in 1954 and worked as a psychotherapist in Toronto. She and her second husband Elias, who married in 1977, together chose their surname Wakan, a Sioux word meaning "creative spirit."
She and Eli, a wood sculptor, came to B.C. in 1982 and founded Pacific Rim Publishers in 1986 in Vancouver before moving to Gabriola Island ten years later.
As the Inaugural Poet Laureate of Nanaimo, Naomi Beth Wakan pushed poetry beyond the libraries and cultural venues to streets and buses and parks and the chambers of the city council.
With an eye to the future of poetry, literacy and the human race, she encouraged the establishment of the position of Youth Poet Laureate. Her collaborator Sonya Arntzen calls her an "inspired provocateur of writing in others."
This how-to book is also a how-it-was book, teaching readers the way of tanka by inviting them to join her own progress along that way. It serves as an anthology of tanka by numerous devotees, including but not predominantly, herself.
Wakan came to poetry late in life. Before that she was a psychotherapist, a publisher and writer of educational books for children, and a painter and fabric artist. She and her husband the sculptor Elias Wakan lived for two years in Japan, and the books from their Pacific Rim Publishers introduced English-speaking children to the stories of other cultures. The hint of Japanese influence stayed with her as she moved to writing poetry for adults. She became a practitioner and teacher of haiku, hosting workshops and contributing on an international scale. More recently, she found her way to tanka.
Haiku is known to most readers of poetry as three-line poems "consisting of two or more everyday sense images juxtaposed in a way that not only define the moment, but define it so penetratingly that each image is augmented by the other." She has treated haiku exhaustively in previous books, especially The Way of Haiku (2012).
Her chapter "Tanka compared with Haiku" in the present book explains tanka as "five-line poems that move from image to image, idea to idea, feeling to feeling, yet the whole five lines flow together seamlessly to present a strong statement of humanity's place in the universe, even though the poem may be intensely personal." The five lines follow a pattern: short, long, short, long, long. To clarify the distinction, she offers an example of each on a similar topic. First, a haiku by Devar Dahl:
empty cabin
the beached canoe
fills with leaves
Then a tanka by Christopher Herold:
in the morning fog
we slip our oars and drift
between loon calls
all that's left of the world
the warmth of our bodies.
Wakan elaborates:
The haiku speaks only of images: an empty cabin, a canoe filled with leaves. Yet, on consideration, it is clear to us that this haiku clearly speaks of the impermanence of things, using just those images with no overt indication of this inner idea. The tanka also has strong sense images: the drifting boat, the loon's call, but it allows itself a comment that directs our thoughts to the high value of human contact in a cold world.
Wakan calls herself a "poet of the domestic scene." It suits her to begin with something in her everyday existence. Here is one of her "Skylight tanka," celebrating our new skylight, handily situated about the daybed:
high winds –
at the blink of an eye-lid
a new set of clouds
move swiftly across the skylight
restless skyscape, restless me.
She recalls a comment once made of her poetry, that it is really prose until you come to the last line.
There is nothing new about this sort of poetry in the English language. The early modernists who called themselves Imagists learned from Japanese poetics. If none of the tanka quoted by Wakan attain the impact of William Carlos Williams' Red Wheelbarrow or Ezra Pound's petals on a wet black bough, most approach an intensity and focus worth striving for.
As a mentor, Wakan has felt moved to offer a way "to bridge the gap between what people wanted to express and what they were able to express, the chasm between inner and outer lives."
The Way of Tanka begins with a selection of fifty tanka. Only after readers and would-be writers have digested these, does the instruction begin. Chapters address the uses and varieties of tanka, love tanka, nostalgic tanka, witty tanka, response tanka [two poets carry on a conversation in alternate tanka], ekphrastic tanka [tanka describing another work of art, e.g. a painting], tan renga [first three lines by one poet, last two by someone else] and tanka as self-expression.
A section on "Japanese sensitivities" examines to what degree English language tanka can emulate the Japanese, what can be learned and retained, what needs to shift to something different but also valuable. The book concludes with Tanka Exercises for the initiate.
It is almost alarming to think of so many people writing tanka, and so many tanka. Samuel Goldstein, whom Wakan dubs the "godfather of tanka written in English," writes as many as twenty a day. The tanka act as a kind of diary. She has misgivings: "As a personal essayist, I know the danger of recording one's life as one is living it." But she decides tanka are "the perfect poetry style to release our true voices and real feelings."
Much of Wakan's insightful instruction in the way of tanka could benefit anyone feeling their way into the reading and writing of any sort of poetry. The discipline involved in a tanka, like that in any traditional form whether it be sonnet or villanelle, can calm the poet's eye lest it roll too far in its fine frenzy. That said, most readers of this book will have dabbled in haiku and be ready to move on — or to move back and forth, depending on the day and the mood.
I think Naomi Wakan, inspired provocateur and mentor, would encourage every reader to try, even for the benefit of themselves alone.
she tells us
how she tells us
I can
and so can you
but I'm not sure