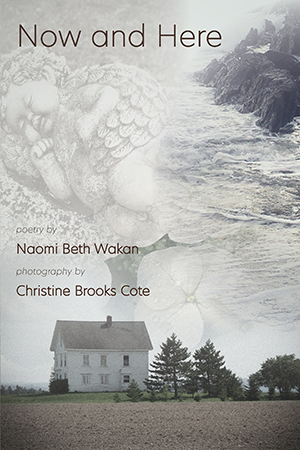 pub: Shanti Arts (PB)
ISBN: 978-1-956056-09-9
Cdn $28.00  US $21.95
Wholesale: info@shantiarts.com
US Retail :info@shantiarts.com
CDN Retail: mail@pagesresort.com
In this beautifully presented book, poet Naomi Beth Wakan joins photographer Christine Brooks Cote to offer glimpses into their "now and here."
Wakan wrote tanka-a format of five-line poems originating in Japan-in response to photographs by Cote. Wakan chose this particular format because it starts with an objective description of the image
Early morning
the dew still resting
where it settled
and then pivots to the poet's subjective reaction
would we could wake refreshed
to look at things in new ways.
Cote's photographs are the perfect inspiration for a poet – "you're looking at my life and what I love; you're seeing bits and pieces of places I have been; and you're catching glimpses of the best moments of my life."
The title, Now and Here, comes from Henry David Thoreau: " . . . all these times and places and occasions are now and here."
In "Now and Here", Christine Cote's photographs call and Naomi Beth Wakan's poetry responds . . . Wakan's choice of verse is tanka, a five-line form from the Japanese poetic tradition. In her introduction, Wakan provides a concise, empathetic history of Japanese poetry that explains how the forms of tanka and haiku are related but differ. It will inform those for whom tanka is new and delight even those who are familiar with it.
Cote's photographs encapsulate moments of awareness that radiate her affection for her home territory in all its moods and particularity. Together, these photos and tanka, grounded in the here and now, evoke a timeless space."
Now and Here is an extraordinary ally for stilling the moment. As an editor, Christine Cote has, for years, championed the mixing of media in order to say a bit more. Now, as a co-author, in her welltimed collaboration with Naomi Waken's poetic expression, we have been gifted a chance to breathe in her personal visual utterances."
. . . a charming collaboration that goes beyond the here and now . . . a series of conversations, with each pair of works blossoming from a sense of place and offering an escape through the open-ended artistry of their creators. Although the poems and photographs should (and do) speak for themselves, the introductory essays must not be ignored, as they provide a framework for the photos (and context for the tanka). Just as tanka can pivot from their beginnings, you can let this book transmit you to other times and other places.

In "Reflections on Tanka" Naomi Beth Wakan's introduction to this collaborative work, she gives a brief history of the form and explains its salient characteristics. This is invaluable information, provided by a tanka master. She also points out that Christine Brooks Cote's photographs are "…the perfect stimuli for my writing." In Christine Brooks Cote's introduction, titled "Reflections on Photography" she traces her artistic development as a photographer and reveals her true motivation for taking photographs: "…it makes me feel good." She mentions that she has known Wakan for many years and has published her essays and poems in the journal Still Point Arts Quarterly and that over time Wakan has become "…a friend and an inspiration." Most of the thirty-eight photographs in the book were taken in Brooks Cote's home state of Maine, renowned for its scenic beauty. It's no surprise, therefore, that Wakan felt inspired to write poetry after viewing the photographs, which include seashores, lakeshores, forests, flowers, farms and more. Also, the book's title is derived from a quote by Henry David Thoreau that appears at the start of this outstanding collection. Thoreau writes that eternity's truth and sublimity are "… now and here", waiting to be experienced "… in the present moment." These words serve as a capsule definition of both tanka and artful photography, penned by the 19th century naturalist, author, poet and philosopher whose influence continues to this day. Wakan describes the stillness in the following tanka as startling, no doubt because of the complete lack of sound and movement, except for the duck's wake. The word wake has a double meaning, referring to a water trail and becoming aware of one's surroundings, as if waking from sleep. This is my favourite tanka in the collection, as it captures the essence of a tranquil lake scene in just eighteen syllables. the stillness is startling only the wake of the ducks marks any movement The three ducks in the accompanying photograph indeed move almost imperceptibly on the calm water. A restful blue is the main colour, with hints of green and grey. I can very easily imagine being there, looking, listening, breathing and experiencing eternity's truth and sublimity. Thank you, Naomi Beth Wakan and Christine Brooks Cote, for working together to create such a beautiful gift for those who appreciate both poetry and photography. Hopefully, a similar collaborative project is in the works from these two creative artists and close friends