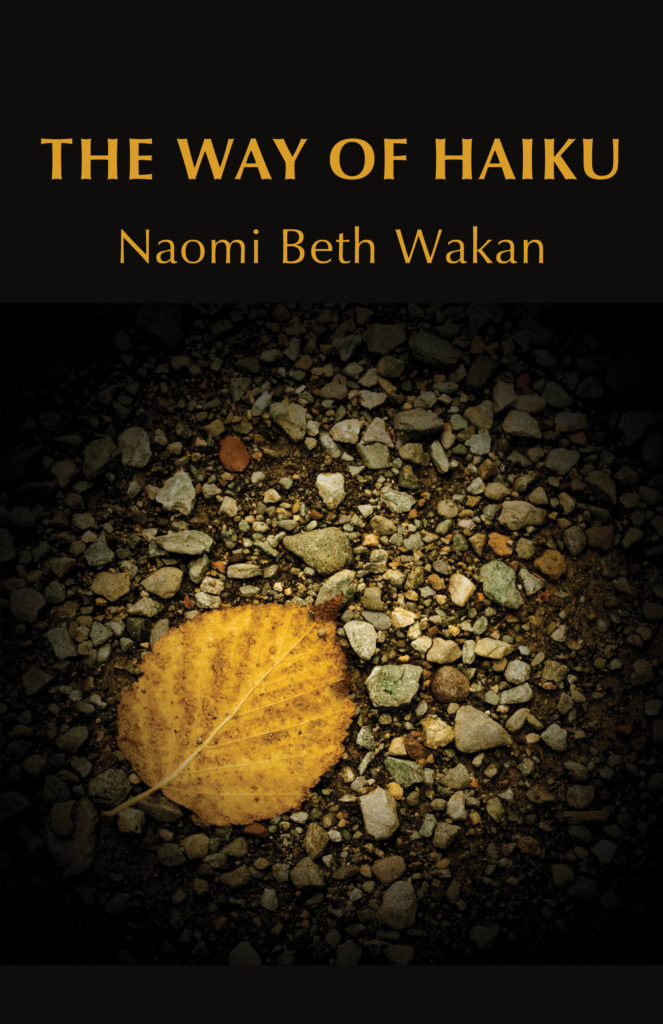 Shanti Arts (PB)
ISBN 978-1-947067-67-7
ISBN (digital) 78-1-947067-68-4
Wholesale:  info@shantiarts.com
US Retail:  info@shantiarts.com
CDN Retail:  mail@pagesresort.com
In this inspiring memoir, Naomi Beth Wakan takes the reader on a journey through her lifelong experiences writing various forms of Japanese poetry, especially haiku and its related genres. She explains the rules and structure that distinguish the various forms, providing many examples of her own work as well as poems from well-known historical and contemporary poets.
Very importantly, however, Wakan shows by example that the "rules" are not to be taken as impediments, but rather as guideposts on the journey to discover and explore oneself.
Looking back, Wakan realizes that her practice of poetry writing has enabled her to develop awareness, dispassionate interest, personal healing, and compassion. In her own words: "I have come to see that in creating poetry, I am creating myself."
"What do we get from a manual for teaching people how to write haiku in which the author firmly states, "You can't be taught how to write haiku"? The answer is, a very great deal that is essential to the beginner, who is reminded constantly that the time will come when the 'apprentice', having learned from practice and experience and become a 'journeyman', will want to go his/her own way.
The reader is swept away by Wakan's style – accessible, flourishing, personal and 'racy', and by her refusal to sit on a fence.  She is convincing, yet is continually at pains to present convictions that diverge from her own.  This tolerance is necessary in any serious discussion of haiku.
It is now 35 years since another Canadian, Sister Joan Giroux, wrote one of the first books of this kind.  The Haiku Form.  Hers was the book – now sadly out of print that put me on the right (meandering) road to writing haiku.  If I were starting now, I would be glad to find Wakan's book in my hands, like Guiroux's primer, it deals infectiously with both the spirit and the form.
In The Way of Haiku, Naomi Beth Wakan parallels the fundamentals of the genre from both the western and eastern perspectives, reaching deeply into how haiku has adapted to change while continuing to hold its original essence throughout hundreds of years and many cultures. Having lived in Japan and studied Japanese literature, Ms Wakan is well-versed in the differences and similarities between Japanese and English-language haiku.